For Immediate Release – April 21, 2020 – Greystone Technology
Colorado-based managed IT services provider, Greystone Technology, is challenging IT Service Providers across America to commit to a strong economy and job protection values when using stimulus funds.  The MSP Stimulus Pledge (www.mspstimuluspledge.com) is a collective of peers and competitors in the IT Services industry committing to using government assistance, including PPP funds, as intended: to keep team members employed and keep the economy moving.
"Many people don't realize that IT service is more of a people business than a technology business." says Greystone CEO, Peter Melby.  "IT management and security have never been more critical than they are right now. If used as intended, the stimulus program has given our industry and opportunity to become collectively stronger which will be necessary to help businesses overcome the challenges that we will continue to see as we move into an uncertain future."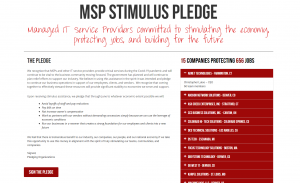 Fifteen organizations have joined the MSP Stimulus Pledge pre-launch, committing to protect over 650 jobs.
"We believe that coming together to effectively steward these resources will provide significant stability to economies we serve and support, which is why we want to encourage other Managed Service Providers to sign this pledge and agree to the following stipulations" shares David Lewien, Founder and President of Go West IT, a Managed Services Provider also based in Denver.  "This runs deeper than local competition. These values improve business and life for everyone."
The MSP Stimulus Pledge brings regional and national competitors together for the greater good of employees, the industry, and the business community.
"The most critical thing we do as business leaders is to keep our companies fiscally healthy.  At this time when all industries are challenged we are grateful for the support provided through the stimulus so we can be financially responsible while continuing to support our people during this time when the economy is paused.  We are aiming to enroll more than 100 organizations pledging to protect over 2000 jobs. Our employees win, our clients win, and then we win" Adds Jesse Armstrong, Greystone's President.
Learn more and see the pledging companies at www.mspstimulus.com.
The Pledge
The MSP Stimulus Pledge asks organizations to use stimulus funds to commit to:
Avoiding layoffs of staff and pay reductions
Paying bills on time
Providing no increase in owner's compensation
Working as partners with our vendors without demanding concessions simply because we can use the leverage of economic conditions
Running our businesses in a manner that creates a strong foundation for our employees and clients into a new future
About Greystone Technology
Greystone Technology provides end to end IT services including user support, systems administration, security, user training, development, and mobile apps. Nearly 100 team members in Fort Collins, Boulder, and Denver are focused on providing more effective IT through deep client engagement, team-based service delivery, and common-sense action. To learn more about the MSP stimulus pledge, visit www.mspstimuluspledge.com.
For press inquiries and interviews, please contact Jacob Lieber at jlieber@greystonetech.com or 970.372.2485.