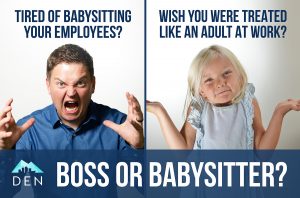 Greystone CEO, Peter Melby, will present a free session at Denver Startup Week, the largest free event of it's kind in the US.  We've spent a long time trying to avoid the oh-so-common reality in most companies where employees are treated like children and managers become babysitters.  This journey hasn't been as simple as we expected and we enjoy sharing the ups, downs, and lessons we've learned along the way.  You can also learn our unique process for steering our employees and keeping them engaged.  Did we mention we're buying you a drink afterward?  Don't miss out.
Boss or Babysitter? Lessons in building a top workplace
September 18th
4:00 – 5:00 – Turing School Denver
1331 17th St, Denver, CO 80202
Happy hour hosted by Greystone Technology to follow!
RSVP at www.bossorbabysitter.com/dsw
Register for other Denver Startup Week events (it's all free) at www.denverstartupweek.org