On the comfortably cool early morning of June 2nd, several of Greystone's team members met up at the south end of Sports Authority Field at Mile High. There we donned bright orange shirts and scattered to assist alongside the multitude of volunteers at the American Heart Association's 2018 Denver Heart & Stroke Walk. We performed tasks such as greeting new event attendees, providing maps, directing the walkers and runners along the route, and organizing teams for their group photos.
The American Heart Association provides public health education, CPR training, lobbies for positive change in public health policies, and funds research of heart disease and treatments. The Denver Heart & Stroke Walk is a fundraising event where both runners and walkers complete a circuit around and through Sports Authority Field at Mile High.  Participants of all ages arrive with teams of friends, family, coworkers, or by themselves.  Before and after the walk, they enjoy the sunshine, live music, various tents and activities, and a bunch of smiling faces.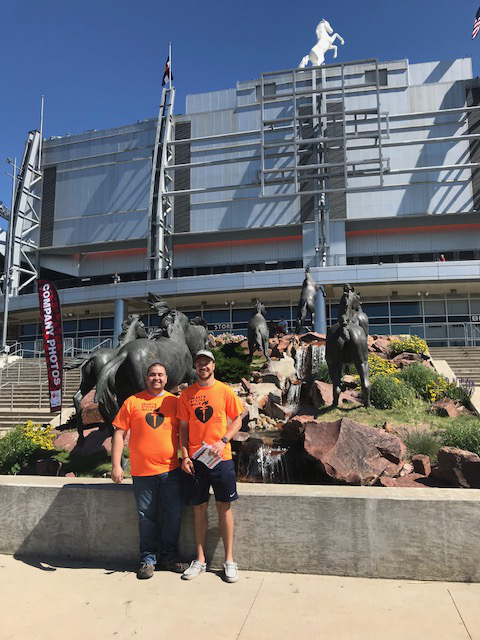 My colleague Ryan and I teamed up to help hand out maps and give directions to new arrivals.  We had a blast dancing, laughing with people, and racing to be first to hand over a map to people. We even goofed where Ryan would ask, "Would you like a map?" Then I would swoop in and proffer mine with a "Want a better map?" Many laughs were had and I got tons of exercise as I twirled, sprinted, and hustled to greet more people than Ryan did.  We even cracked up our American Heart Association volunteer lead who joked that we had way too much energy for so early in the morning and that we were having too much fun.  To top it all off, we even had the rare opportunity to walk out to the field within the stadium and to bask in the grandeur of standing at the end zone!
This was easily one of the best days I have had all year! My face hurt from laughing and smiling, I was tired from the exertion and horsing around, but it was totally worth it. The American Heart Association put on a fantastic event, and I was honored to be able to volunteer alongside my Greystone comrades!
To learn more about the American Heart Association and how you can help their cause visit their website here.