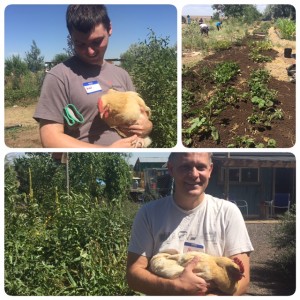 As the person who spearheads our Volunteer Time Off (VTO) initiative, I am always looking for new volunteer opportunities for our staff. In the last year and a half since I took over this initiative, I have had great groups volunteer at Relay for Life, Urban Peak, and the Denver Rescue Mission. On top of that, many staff members have volunteered on their own with organizations they are passionate about.
I try to organize a group activity about once a season and take into consideration my coworker's interests when planning. For a summer activity, I was looking for something outside. Leave it to time spent trolling volunteermatch.org (great website if you are interested in volunteering) where I came across Growing Colorado Kids (GCK). This organization "was founded in 2008 by Chris and Denise Lines to address the hunger faced by many refugee youth in Metro Denver. At first, the program utilized inner-city garden plots to grow food for refugee families," and "in 2013, Growing Colorado Kids moved to a 5-acre farm in Commerce City. With the addition of farm animals and a colony of bees, refugee youth are now provided time away from the challenges of city and family life and the enjoyment of fresh air, nutritious fresh food, animals to study and know, and the opportunity to gain invaluable scholastic and life skills."
There were six of us that ventured out to the farm on a Friday.  I knew the farm was a little bit of a drive (it's Commerce City, I get it), however, I didn't realize that it was even more east.  As I'm driving, I'm thinking "where am I going and where have I told these people to go?!"  Then I see the cars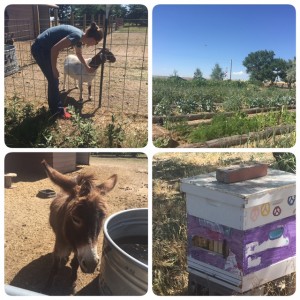 parked on the side of the road and saw this amazing property with people moving about. I was greeted by Talkuma, who came to GCK a few years ago as a refugee and is now a paid Youth Leader to other refugees who visit the farm. Talkuma, Denise, and the other youth leaders welcomed us with big smiles.
As our group showed up one by one, everyone got straight to work helping with compost, tilling the garden, braiding and hanging garlic to dry, weeding, etc. Everyone in our group had a smile on their face throughout the time they were there. The Greystone crew was pleased to meet their chickens, goats, a horse named Flo, mini donkeys, and a "mini" bull. Michael, our Tech Engineer in Boulder, LOVES chickens and it made his day to hold one and hang out with them while he was out there. One of our Denver Tech Engineers, Kleyda, loves horses and worked a lot with their horse, Flo, to see if their saddles and gear fit her. She also taught Denise what all the gear was for and how to put it on. Monty helped build a stage for the talent show they were having with the kids the next day.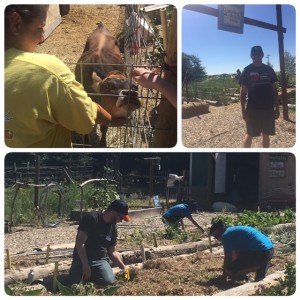 GCK is a small, grassroots organization that Denise and her husband run on their own with the help of volunteers. GCK donates the food they grow, free of pesticides or chemicals, to SAME Cafe and different Brighton food banks. Not only is GCK's food high quality, but so are GCK's interactions with the youth. They are teaching them how to work on their public speaking, how to give and receive compliments, and how to help those younger and smaller than them. Denise is very passionate about helping teach these children and teens skills that they can take with them in any aspect of their lives. She is also extremely grateful for all of her volunteers and everything we did to contribute. It's amazing to witness our staff becoming a part of GCK's mission while having a wonderful time. They can always use volunteers and I highly recommend venturing out to the farm.