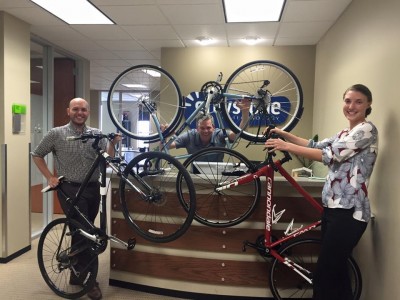 June is Bike Month for the state of Colorado, and Wednesday June 22nd marked the annual Bike-to-Work-Day event. Last year there wasn't any participation from Greystone, so I decided to take the lead, and organize this year's ride. I am happy to report that Greystone staff joined many participants from across the state and contributed to taking 25,000+ cars off of Colorado's roads this year. Most of us understand that biking to work can be a green alternative for your commute, but biking has proven to be beneficial to me in other ways, too.
Staying fit and reducing my carbon footprint are some of the top reasons why I enjoy bicycle commuting. Biking to work, or combining biking with public transportation, can also save money. The more I bike, the less I spend on fuel and maintenance for my vehicle, and it  also cuts down on other costs, such as parking and tickets. Additionally, when I ride my bike I get to avoid traffic delays and all the stress that comes with congested streets. Many bicycle commuters report that they begin their work day feeling de-stressed from the light                                                                                                                     exercise and fresh air—and I have had that same experience myself.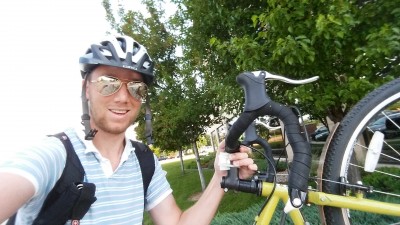 Even though Bike-to-Work-Day happens just once a year, the hope is that it can be a catalyst for commuters to try active transportation more regularly. Participants can test the waters on this state-wide day of cycling, and hopefully stick with it on a more regular basis–after all, we can all stand a little less stress, a little more money, and little more exercise in our daily lives.