Last week, Heather and I, the Marketing Administrators for Greystone, attended the 13th annual Summer Toast.  This event is one of Denver's largest Marketing and Networking events of the year and it did not disappoint!  Hosted at the EXDO Event Center, it was more than accommodating for the 100+ participants, as well as the variety of sponsors, exhibitors, and a disco ball.  As if the disco ball wasn't enticing enough, there was plenty of complimentary drink and food from local companies and great people.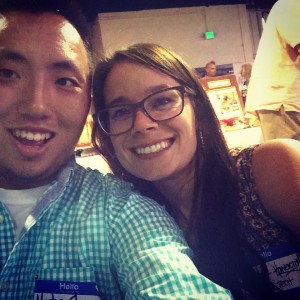 The delectable bites included pulled pork, the childhood classic mac & cheese, mouthwatering ribs, just to name a few.  To wet your whistle, Miller Coors and Colorado Native brought some of their classic beers. If that didn't tickle your fancy Infinite Monkey Theorem gave out wine (in a can!) and Mile High Spirits had Punching Mule (a Moscow Mule in a can!), along with tastings of Cuidado Tequila with Freshies Margarita mix.  This was a great way to get to learn about local companies and try their delicious offerings.
As people's stomachs filled and thirsts were quenched, it made for a great atmosphere to talk and connect with other like-minded individuals from Denver, Boulder and Fort Collins. I even met a few other fellows who came down from Fort Collins for the event. We saw current clients there (Punchbowl Social), our friends from the South Metro Denver Chamber of Commerce and made new connections with great people from Kulbook and Sage Media. Overall it couldn't have been a greater time, conversations covered not only business, but classical movie discussions, how well the Broncos are going to do (the answer is exceptional), or they how managed to produce wine in a can.
On top of it all, every year the Summer Toast donates portions of the proceeds from the night to local nonprofit. This year it was The Rocky Mountain MicroFinance Institute, a nonprofit focused on assisting those who have the entrepreneurial spirit but not the financial capabilities. In the past seven years, they have distributed over $200,000 in loans to low-income entrepreneurs and created the Business Launch Boot Camp that boasts an 85% graduation rate.
Our experience here really encapsulated the mood and name of the event, the Summer Toast was a perfect blend of business and pleasure (just like those Moscow Mules in a can) and an ode to the fun summertime can bring, so why not toast to it?