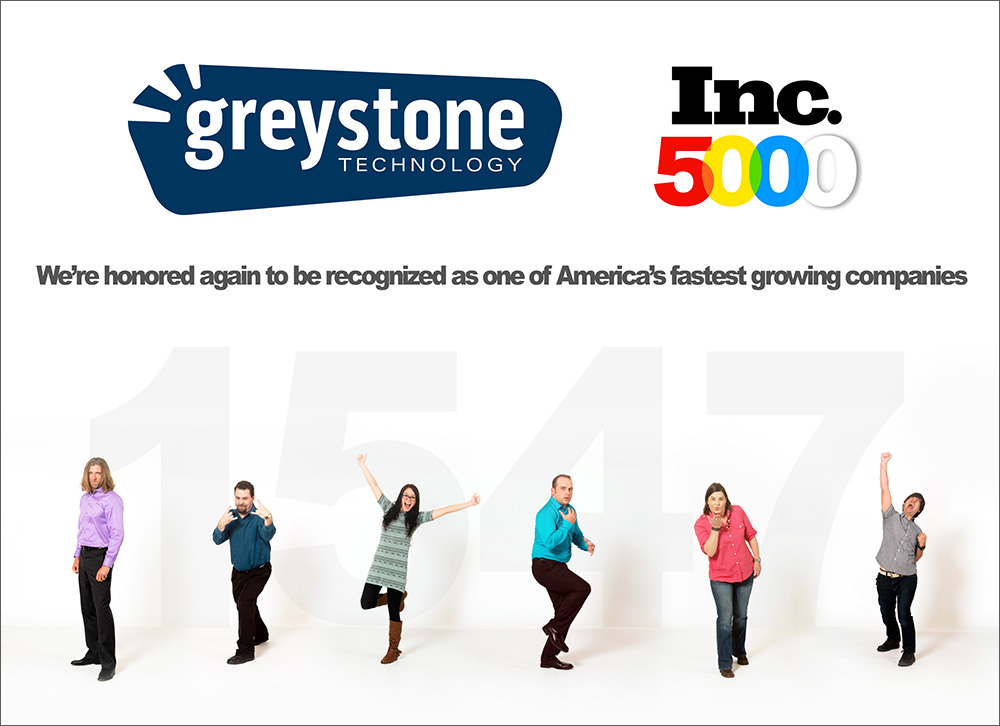 Denver, CO, August 12, 2015 – For the third year in a row, Inc magazine ranked Greystone Technology on its list of the fastest-growing private companies in America.  This year, Greystone was ranked at number 1547, up from 1750 from last year, and 2028 in 2013. Greystone has seen a three-year sales growth of 264%.
This annual list represents the most comprehensive look at the most important segment of the economy-America's independent businesses.  The list of companies includes well-known brands such as FitBit, Smashburger, Skratch Labs, Hydroflask, Craftsy, and Orange Theory Fitness.  Furthermore, Greystone is listed alongside other thriving Colorado companies, like Skratch Labs, Acoma Energy, MinuteKey, and more.
"The story of this year's Inc. 5000 is the story of great leadership. In an incredibly competitive business landscape, it takes something extraordinary to take your company to the top," says Inc. President and Editor-In-Chief Eric Schurenberg. "You have to remember that the average company on the Inc. 5000 grew nearly six-fold since 2012. Business owners don't achieve that kind of success by accident."
Started in 1982, this prestigious list of the nation's most successful private companies has become the hallmark of entrepreneurial success. Today, the list is a distinguished editorial award, a celebration of innovation, a network of entrepreneurial leaders, and an effective public relations showcase. The Inc. 5000 ranks companies by overall revenue growth over a three-year period.
"We're thrilled, honored, proud and humbled to be named to this list once again.  Its evidence of the tremendous team that's been assembled here and the incredible work they're doing," says Greystone Director of Business Relations, Gary Aronhalt. "This year is particularly exciting for us because two of our clients, 3D Lacrosse and BridgeHealth Medical, are also on the list.  We love the way we've each contributed to one another's growth, and look forward to deepening our impact!"