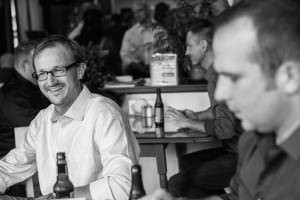 (Nate Shugrue – Marketing Admin out of our Fort Collins office shares a bit from  his recent experiences)
Networking at times seems to be the least pleasurable thing to do. You're stuck in a room among other people awkwardly attempting to make "business connections" and trading business cards like they are vintage baseball cards. But why not focus on the connections and let the business come after? I have been guilty of only spilling business related words out of my mouth to those I meet at networking functions, but I have also realized there are much more effective and fun ways to develop business connections—well… maybe let's call them professional relationships.
Do not begin conversations purely with business. Sure you should have your elevator-type speech ready, just don't start there. People are much more accepting of starting a casual conversation at first. It allows him/her to assess your personality and decide whether or not you are someone they would like to continue a conversation with, let alone talk about possible business ventures. You may be selling your company or product, but people are buying your personality and communication skills.
Silence is not golden. But, not in this case. This isn't your first high school dance; don't be a wallflower! Remember networking is all about meeting people. It will prove pointless to sit back in the corner waiting for someone to come talk to you. Be engaging to those around you and opportunities will surely start coming your way.
No phone! Don't be staring down the whole time, man. Why, you ask? People find it a bit disrespectful or at least annoying when you are looking down at a glowing screen when you're meeting for the first time. You're only half listening and will forget who that one person was, who they worked for, and why you were even talking. Technology has greatly improved the business world with virtual meetings, instant communication to co-workers, the sending and receiving of documents. Yet somehow, herding businessmen and women into a single room to talk still made it through the digital revolution, so it may be best to pocket the phone for an hour or so.
Let's talk about beer, baby. Let's talk about you an- well I'll stop there. Fort Collins is fortunate enough to have a distinct love for microbreweries. It is the largest beer producer in Colorado, along with ranking first in the nation for volume produced by breweries. Basically, people up here enjoy a cold one. So it is natural that beer discussions come up during conversation; New Belgium, Equinox, Odell's, Fort Collins Brewery, Great Divide, all these microbreweries have their beers in various restaurants and even have space to host networking events to help promote their products. Don't be startled when people enjoy talking about their favorite beer or brewery, or if an IPA or pale is their beer of choice. The next best thing behind drinking a beer, is talking about it.
Be genuine. In the end, just like your mom used to tell you, be yourself. It may not seem like it, but people are very adept at telling if someone is really being "real." Don't force it. That's all there really is to it, if you genuinely don't like getting to know people, then maybe you have the wrong job because that's all networking really is… Talking and active listening.
Whether you're a seasoned pro at networking or just dipping your toes in the pool of professional community engagement, these tips can help smooth the process. The summer is always a great time to find events, community gatherings and networking functions. I suggest using Meetup (you're skeptical about this one, I get it, but trust me) and Eventbrite to find local and relevant events to what you are searching for. Maybe you'll see me somewhere with a warm smile and firm handshake to say hello!