Here at Greystone, we've launched a newsletter (We'd love to have you sign up here: http://eepurl.com/r3Ovf) Or, you can visit last month's newsletter here.
One of the ongoing features of our Newsletter will be a brief "interview" of one Greystone team member by another Greystone team member.
This month, we feature Greystone President Peter Melby, as interviewed by Greystone Founder Jesse Armstrong.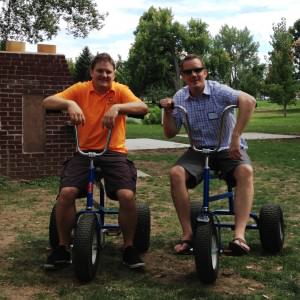 JA: What was the best lesson you learned this year?  
PM: This was a unique year in that I took a step back from my normal pace and I wasn't able to work as much as I wanted to.  It was a very demanding year personally which forced me to trust my team.  I am excited about the results.  In 2014 I'm excited to spend my time differently than I did prior to this year now knowing what a strong foundation we have.
The second important lesson I learned has been in our continued transparency.  Rather than meeting with each of my direct reports each week, we all meet together in a structured format where we make decisions in view of the rest of the team.  It has increased trust, reduced confusion, and made for more effective delegation.
JA: I know that the awards we've received have been nice, but what accomplishments are you most proud of this year? 
PM: My favorite part of the year has been the individual growth and transitions we've seen in members of our team.  2013 was another great year of growth for us and a number of our team members are in roles that didn't exist when they were hired.  It's lent a lot of credibility to our focus on hiring quality individuals, not just people who fit a static role.  The most exciting part of the week is to walk into both of our offices and see so much activity knowing that each person is working toward our vision in their own way.  If they could give awards for growth in quality, not quantity, it would be more fitting.
JA: What was your favorite piece of personal technology you purchased or received as a gift?  
PM: Thanks for saying "purchased" because my family continually reminds me that I'm impossible to shop for because I'm insanely impatient and don't do a great job of waiting for gifts.  The technology that changed my life the most this year (and actually was a gift) is my fitness tracker (the Fitbit One) that tells me how much I don't exercise and how often my 7 month old girl wakes me up each night.
The worst gift I got was a remote control helicopter.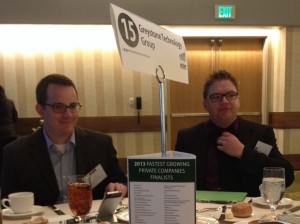 JA: What was your favorite non technology related Christmas gift?  
PM: My kids got me the LEGO DeLorean from Back to the Future.  It now sits in my office so my son doesn't steal it.
JA: What new / improved technology do you thing will have the biggest impact with our clients in 2014. 
PM: I think people will continue to work from many devices (computers, tablets, phones, etc.) and the need for continuity between each device will become more important.  This to me is the true value of "cloud" computing – accessing the same set of files, email, applications, etc.  We're still a little ways away from this being fully seamless but 2014 will be another big year of navigating change.  Businesses have so many more choices than we did only a few years ago.