By Craig Arcuri, Network Support Technician
Let's face it… a company's data IS their business.  Without it, they don't know their own customers, the business they have done with them, or how anything related to company finances.  Data is what the IT industry is all about… from the latest and greatest software application to the basic 1's and 0's which make up data itself.  If any of that data becomes corrupted or somehow goes missing, without a backup copy, a company would have to spend a lot of money trying to recreate those records, or even worse, lose them permanently.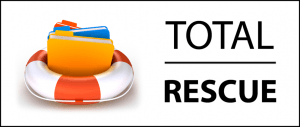 Welcome to Greystone Technology Group's TotalRescue package!  We provide the assurance that even if there is a catastrophe, your business can still thrive!  With GTG's TotalRescue, we have the capability to be very flexible with how your company protects your data.  We can have a backup taken every hour or as often as desired.  Recovery points are stored locally on a provided backup server that we install for you and can be retained for 30 days.  We also replicate that data to a secure, off-site cloud location for up to 1 year.
Did you accidentally hit the delete key on a shared file, when you have a deadline for a presentation with an important client later in the day?  By contacting Greystone, we can recover that "missing" file for you usually within an hour and in most cases within a few minutes of your contacting us.
Did your old server decide to crash in the middle of a busy work day?  TotalRescue has the capability of recovering your latest server image and loading it onto temporary "spare" hardware while we fix your crashed server. In situations where there's enough network bandwidth, we can even spin your server up virtually. And then we'll download that working virtual image from the cloud to your server once it's repaired, as well.  And it doesn't matter what type of data it is…from email, to SQL databases, to spreadsheets, TotalRescue is a package that can keep your mind at ease.
If your backup solution is questionable, at best, and your tired of not being able to recover lost data, or if you're losing business because of it, contact us about our TotalRescue package.
Let Greystone focus on the details while you focus on what's most important to you… being profitable and keeping your customers happy!