The following is something of a "personal" post written by Greystone's Client Relationship Manager, Gary Aronhalt.  Recently, Gary traveled to Nepal and took the time to visit a Greystone client in a far away land…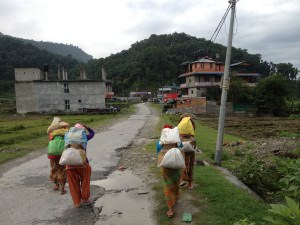 iDE (formerly "International Development Enterprises" – ideorg.org) is an international not-for-profit organization based here in Denver, CO, and they've been a Greystone client for some time now.  iDE is a complex organization that does a wide variety of development work around the world.  What initial captured my imagination about them, though, was hearing about their work with poor rural farmers in the developing world.  iDE produces inexpensive, simple, easy to use micro-irrigation equipment that helps these farmers produce high quality crops with minimal ecological impact.  iDE's work provides these farmers the tools to get on the ladder to climb out of poverty.
It is all profoundly good work.
And so, when I had the opportunity to travel to Nepal recently, I found that this was one of the countries where iDE has been doing this kind of work and I decided to take the time to visit them there.
iDE has a significant presence in Nepal and I was able to visit a field office in Pokhara and their main office in Kathmandu.
While meeting with Bal Krishna and his team in the field office Pokhara, we were able to hear more about the way iDE gathers groups of farmers and trains them and equips them, and how they work together to negotiate better prices with buyers in larger markets.  By working together these farmers get a better return on their crops than if they were to simply take their produce to market independently.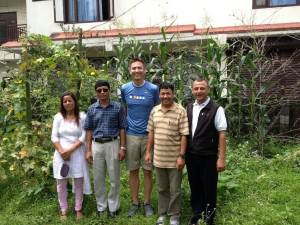 We were also able to see, firsthand, how this equipment works, as the front yard of the Pokhara office has a functioning setup of their micro drip irrigation system.  It's a beautifully simple setup that works amazingly well.  They were growing a couple of different gourds at the time: Bitter Gourd and Sponge Gourd.  They generously loaded us up on a bag full of Bitter Gourd to take back to our Nepali friends.
We also learned a bit about other iDE agricultural products like water storage units and how they help setup basic greenhouses for these farmers, too, that helps them grow very valuable tomatoes and other high-cost crops.
A couple of days later, we were back in Katmandu, where we visited the "home office" for iDE Nepal.  There we met with Luke Colavito, an American ex-pat  who's the Country Director for Nepal, and several members of his team.  Luke's PhD is in economics, and so our time with him was a master class on international development and how various forms of aid reach places like Nepal.  It was fascinating to hear about the larger scale work that iDE does, and how they have to competitively bid with other organizations to be the group that wins bids for various aid projects.  Our time was so intriguing to me that I barely remembered to pull out my camera to take pics and video, and so my images from that visit are terribly inadequate!
We then toured their office a bit with Saroj Shakya, IT Specialist.  Saroj is their in-house IT guy for the Kathmandu office and it was interesting to see how their office performs their work, and how they also connect back to the Denver office, that Greystone manages.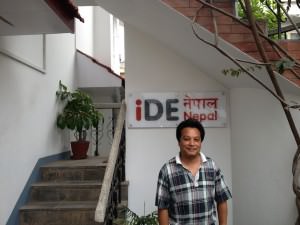 It was such a great experience to visit these offices to see a bit further into the work that iDE does, and how Greystone helps facilitate that work by managing technology for their office here in Denver.  It was also fascinating to see a bit into the daily work life of people in another country, another culture.
Next time you're in Nepal, you should look them up!