Greystone Technology Group, Inc. Named to the "MSPmentor 501 Global Edition"
As One of The World's Top IT Managed Service Providers (MSPs)
February 21, 2013, Denver, CO:
Greystone Technology Group, Inc. (http://greystonetech.com) has been named to Nine Lives Media's sixth-annual list of top IT service providers.  Greystone is #209 on the Top 501 Global Edition list and #163 on the Top 200 North America Edition.  The North American list also includes support divisions of  Best Buy, Earthlink, AppRiver, and Konica Minolta.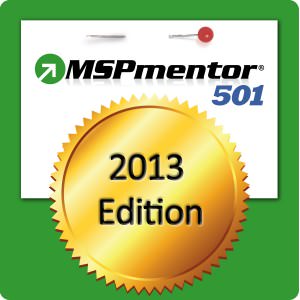 "2012 was a fantastic year for us, and being named to these lists is a great honor," said President, Peter Melby.  "This is a great catalyst into what is already shaping up to be another year of rapid growth."
"We work hard to find brilliant, technically minded and customer-focused individuals," Melby continued, "and this recognition reveals what an incredible team we've assembled.  We are very proud to be named to these lists and look forward to increasing our ranking in 2013!"
The MSPmentor 501 report is based on data from MSPmentor's global online survey conducted October-December 2012. The MSPmentor 501 report recognizes top managed service providers based on a range of metrics, including annual managed services revenue growth, revenue per employee, managed services offered and customer devices managed.
"MSPmentor congratulates Greystone Technology Group on this honor," said Amy Katz, president of Nine Lives Media, a division of Penton Media. "Qualifying for our MSPmentor 501 Global Edition puts Greystone in rare company."
MSPs on this year's global 501 list lifted their combined annual recurring revenues 24.5 percent to $2.54 billion. Together, those MSPs now manage more than 5.6 million PCs and servers, and nearly 400,000 smartphones and tablets, according to Joe Panettieri, editorial director, Nine Lives Media.
About Greystone (www.greystonetech.com)
Greystone Technology Group provides outsourced IT services for small and midsize organizations across Colorado, enabling them to focus on goals and objectives instead of servers and software. As a managed services provider (MSP), Greystone delivers the experience of a full IT department using a proven approach that helps businesses to plan ahead and remove the guesswork from technology management. This unique philosophy results in a true partnership with each client, ensuring that every requirement is addressed at every turn — during strategy, planning, support and administration.
Media Contact
Gary Aronhalt
720.496.1381
GAronhalt@greystonetech.com